^
La seguridad se convierte en simplicidad
Desde 4 meses aprox. hasta 4 años
Desde 61 hasta 105 cm
Por qué elegirme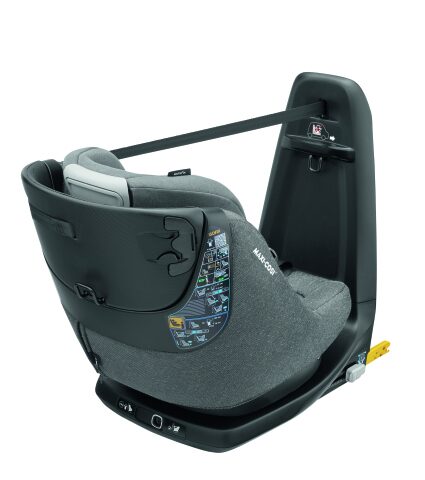 i-Size for improved safety
Compliant with the latest European safety standard (i-Size), the AxissFix offers improved side impact protection and extended rear-facing travel.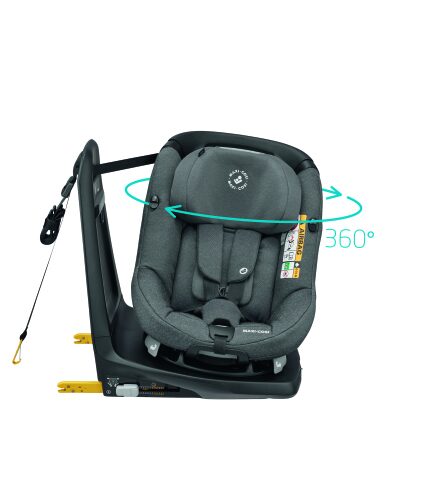 360° swiveling seat
AxissFix is a car seat that swivels 360°. Get your little one in and out in seconds without bending over the seat!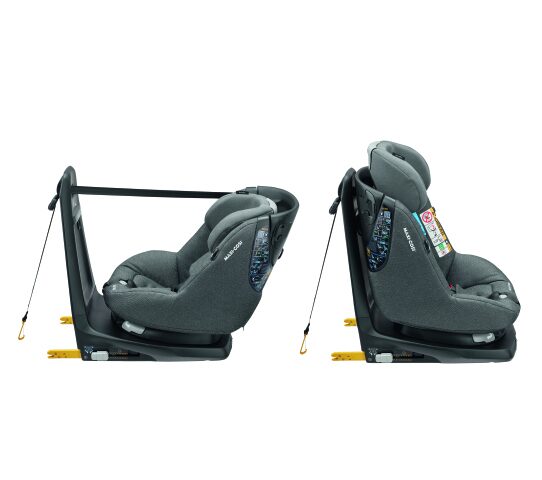 Rearward & forward-facing travel
The AxissFix grows with your baby, first positioned rear- and then forward-facing. The height indicator lets you know when it's time to switch.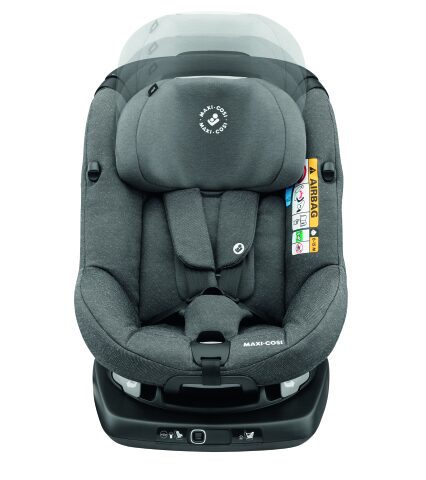 Headrest & harness adjustment
Simultaneous safety harness and headrest adjustment ensures that your growing baby always fits the AxissFix comfortably.
Descripción del producto
¡Colocate un paso por delante en seguridad infantil con Maxi-Cosi AxissFix! Nuestro innovador asiento AxissFix gira 360 ° para ofrecer la mayor facilidad de uso. Cumpliendo con el último estándar de seguridad europeo i-Size, ofrece a los bebés, viajes orientados en sentido contrario a la marcha para una mejor protección de la cabeza y el cuello.
Instalación
Instala la sillita de seguridad Maxi-Cosi AxissFix en tu automovil, usando los conectores ISOFIX y la correa superior, que harán que la instalación sea segura y práctica. Consulta el manual de usuario o lee nuestra lista de verificación para una instalación correcta de ISOFIX.
Después de anclar la silla AxissFix a los conectores ISOFIX de tu automóvil, tienes que conectar la correa superior al punto de anclaje de tu vehículo. Esto proporcionará una instalación muy segura, estable, fácil y adecuada. ¡Asegurar a tu hijo en el asiento es aún más fácil ya que el asiento giratorio mira hacia afuera!
Seguridad
En Maxi-Cosi hemos llevado a más de 50 millones de bebés desde el hospital hasta sus hogares. Para nosotros, la seguridad de tu hijo o hija es nuestra máxima prioridad. Los centros externos de pruebas, como la organización alemana del automóvil ADAC (Allgemeneir Deutscher Automobil-Club), probaron nuestro AxissFix en pruebas de seguridad dinámica y de facilidad de uso, obteniendo una calificación favorable.
Maxi-Cosi AxissFix cumple con el último estándar de seguridad europeo i-Size. Además ofrece una mejor protección contra impactos laterales. Esto significa que nuestro AxissFix brinda a tu pequeño una protección óptima en la cabeza, el cuello y el cuerpo. Esta sillita permite el viaje en sentido contrario a la marcha, que se considera la posición más segura para que viajen los niños, hasta los 87 cm (aprox. 2 años)
La silla para automóvil AxissFix ofrece una instalación ISOFIX fácil y segura, y su sistema Top Tether hace que la instalación sea aún más segura al reducir el movimiento hacia adelante. Los indicadores te notificarán cuando la instalación ISOFIX y el tensado Top Tether sean correctos. El material del reposacabezas, especialmente diseñado para absorber los impactos, brindará a tu pequeño una protección adicional.
Para una máxima seguridad, nuestro asiento giratorio para automóvil Axiss Fix ofrece tres características adicionales: Arnés de seguridad integral de 5 puntos; hombreras antideslizantes para mayor sujeción en caso de impacto frontal; y un cinturón de seguridad automático para asegurarse de que el asiento y la base estén siempre bien ancladas.
Seguridad simple con el asiento giratorio para automóvil AxissFix
¡AxissFix proporciona la máxima seguridad para tu bebé y la máxima facilidad de uso! La silla de seguridad para el automóvil AxissFix gira 360 °, lo que te permite asegurar o levantar a tu hijo en segundos. ¡Les encantará el lujo de no tener que inclinarse y apretarse entre la sillita y la parte posterior del asiento delantero!
Nos aseguramos de que disfrutes de la mayor comodidad y facilidad de uso, pero en ningún momento descuidamos lo más importante: la seguridad de tu pequeño.
Nuestra silla AxissFix cumple con el último estándar de seguridad europeo i-Size. Esta sillita giratoria para automóvil ofrece una protección mejorada contra impactos laterales y un ajuste vertical para una protección óptima de la cabeza y el cuello hasta los 87 cm. (aproximadamente 2 años). Además, como el el reposacabezas y el arnés se ajustan simultáneamente de forma automática, esta sillita de seguridad para automóvil para niños pequeños crece con tu hijo o hija. Puedes usar AxissFix primero orientada a contramarcha y después orientada hacia adelante. El indicador de altura te informará cuándo es el momento de cambiar de posición.
Funda extraíble
En la carretera, los refrigerios o las bebidas no siempre terminan donde tendrían que hacerlo, en algún viaje tu bebé puede marearse y vomitar. Pensando en todo ello, hemos diseñado nuestra sillita de seguridad para que la funda se pueda quitar fácilmente y meter en la lavadora.